Welcome to Kintails
We're an independent brand who aspires to a more thoughtful way of life for both you and your dog. Creating simple, yet functional designed products alongside curating educational editorial for our journal based around the lifestyle of being a dog owner.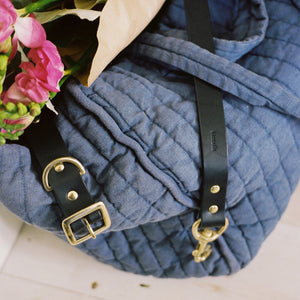 AN ETHICAL APPROACH
Kintails' approach is slow and considered, we are keenly aware of our impact to the planet and our responsibility towards this. Our production is always small, working only with UK-based manufacturer and craftsmen/women. This enables us to minimise waste by reducing overproduction while offering our customers a level of exclusivity on our products.
FOCUS ON QUALITY
Like every dog and their owner, each of our products has a story to tell and we believe in the importance of timeless design. Using only the highest quality materials, our items are made to last and only become more beautiful as they age.
To practice less waste, we would like to encourage our customers to return their
dog's outgrown collars and leads in exchange for gift vouchers. The old hardware will be upcycled for future 'renewal' collections launching in the
coming year.
For dog people
As we've collectively relearnt to appreciate the simpler things in life, the outdoors and the planet we live in, our dogs have accompanied our journey, benefitting from a slower, more connected lifestyle together. They have also been a constant, nourishing our hearts, minds and health, so are deserved of gratitude.

Nature plays a key part in this, which is why we have chosen to give back where we can. All our orders are now being sent using a carbon neutral courier, which means we pay to offset the environmental impact of shipping our products. Our mailing bags are plastic free and completely recyclable in residential paper waste bins.