Halloween Bites Dog Treat Recipe
On All Hallow's eve when the ghost and monsters come out to fright, we bake these special treats, so our dogs don't fear the night! These little bites are made with butternut squash and carrots which are full of Vitamin A, Vitamin C and potassium. With the added boost of Turmeric which can act as a great antioxidant and help to boost your dog's immune system.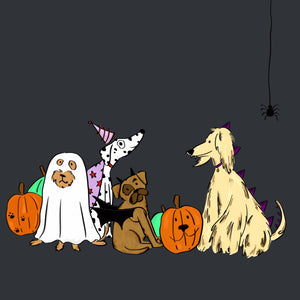 Spicy Halloween Bites Dog Treats
Ingredients
2 Cups of Flour (we use spelt flour)
1 Cup of Oat Bran
½ Butternut Squash
1 Egg
1 teaspoon of Ginger
1 teaspoon of Cinnamon
1 teaspoon of Turmeric
½ Cup Water
INSTRUCTIONS
Preheat the oven to 180C/160C fan/gas 4 and line a baking tray with non-stick baking paper.
Peel and chop the Butternut squash and roast for 30 minutes (until soft). Once cooked leave to cool.
Combine the flour, oat-bran and spices together. Mash the cooked butternut squash and then add to the flour and spice mix along with the egg and mix. 
Mix together gradually adding the water to help bring the mixture together. The mixture needs to firm and easy to scoop but not to wet (if the mixture is to dry then add a little more water and if it is to wet add a little more flour).
Using a teaspoon scoop the mixture onto the lined baking tray and bake in the oven for 15-20 minutes until firm and golden

Transfer to a wire rack and leave to cool.

Please make sure the treats are completely cool before giving to your dog!


SHARE YOUR IMAGES OF YOUR DOG ENJOYING THESE TREATS @kintails 

ILLUSTRATION DRAWN BY THE TALENTED PAPER AND JEN