Pumpkin Pie Dog Treat Recipe
Just like us, most dogs love when Autumn comes around! The weather is cooler for longer walks and what dog can resist the excitement of a large leaf pile to sniff around in? Fall is also the season for pumpkins. Pumpkin pie, Pumpkin spice, Pumpkin everything… Not only do most dogs love the taste, it is also high in fibre and can help with digestive health. It also contains beta-carotene, vitamins A and C, potassium, and iron.
Plus pumpkin seeds can be good for dogs in moderation. They are a good source of protein, fiber, vitamins, and minerals. 
Help your dog celebrate Autumn with these Pumpkin Pie Dog Treats.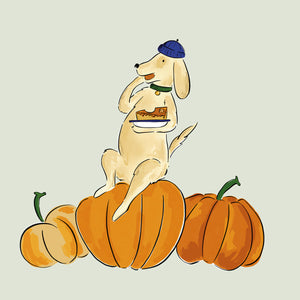 Pumpkin Pie Dog Treats
INGREDIENTS
2 CUPS OF FLOUR (WE USE SPELT FLOUR)
1/4 CUP OF OAT
750g pumpkin or butternut squash (Don't throw away the seeds)
1 Banana
1 EGG
1/2 TEASPOON OF GINGER
1/2 TEASPOON OF CINNAMON
1/2 TEASPOON OF TURMERIC
Method
Preheat the oven to 180C/160C fan/gas 4 and line a baking tray with non-stick baking paper.
First you will need to make the pumpkin puree. To steam the pumpkin, peel and seed it, then cut into evenly sized cubes. Put the cubes in a steamer or colander set over a pan of simmering water and cook for 10 mins. Test and cook for a further 5 mins if not cooked through. Mash and leave to cool. You will only need ¾ of a cup for this recipe, any left overs can be frozen.
Combine the flour, oats and spices together.
Mash the banana and add to the pumpkin puree.
Add the mashed banana and pumpkin to the flour and spice mix along with the egg and mix. The mixture needs to firm and easy to scoop but not too wet (if the mixture is to dry then add a little more water and if it is too wet add a little more flour).
Using a teaspoon scoop the mixture onto the lined baking tray. You can use a fork to flatten down the biscuits to give them the same texture as a pumpkin. Then bake in the oven for 15-20 minutes until firm and golden.
Transfer to a wire rack and leave too cool.
Make sure the treats are completely cool before giving to your dog!
Pumpkin seeds contain beneficial nutrients such as antioxidants, omega-3 fatty acids, and zinc, which can contribute to your dog's overall health. Additionally, pumpkin seeds contain cucurbitin, an amino acid that is believed to have anti-parasitic properties and may help in controlling intestinal worms in dogs.
When feeding pumpkin seeds to your dog:
Ensure they are plain: Avoid giving your dog pumpkin seeds with added salt, sugar, or seasonings, as these can be harmful to dogs.
Feed them in moderation: Pumpkin seeds are calorie-dense, so it's important to give them to your dog in moderation. Too many seeds can lead to an upset stomach or other digestive issues.
Remove the shell: If you're giving your dog whole pumpkin seeds, it's a good idea to remove the hard outer shell. The shells can be difficult to digest and might cause discomfort.
Consider grinding: You can also grind pumpkin seeds and mix them into your dog's food. This makes it easier for your dog to digest and absorb the nutrients.
Watch for allergies or sensitivities: Like any new food, monitor your dog for any signs of allergies or sensitivities. If you notice any adverse reactions, consult your veterinarian.

Remember, it's always best to consult with your veterinarian before introducing new foods into your dog's diet, especially if your dog has underlying health conditions or allergies.