Strawberry Shortbread Dog Treat Recipe
There's a strawberry thief in town! The plumpest, ripest, juiciest strawberries are being plucked and eaten from all the local gardens. Leaving no trace other than some muddy prints, the search is on to find out who the cheeky culprit is. Every house and garden are searched, and nothing is found. That is until a mischievous little Schnauzer called Frank comes to join the search, greeting everyone with a wagging tail. On closer inspection the locals notice his normally freshly groomed white beard is stained bright pink and his kisses are strawberry scented. The thief had been caught and inspired this strawberry shortbread dog treat recipe;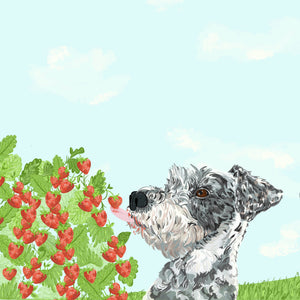 Strawberry Shortbread Dog Treats
Ingredients
1 Cup of Flour (we use either spelt flour or rice flour depending on your dog's dietary needs)
1 Large handful of fresh strawberries
1 tsp ground cinnamon
1 tbsp of coconut oil
1/2 cup of oat bran
Cookie Cutters – We found some novelty strawberry shaped cutters from Etsy.
Instructions
Preheat the oven to 180C/160C fan/gas 4 and line a baking tray with non-stick baking paper.
De-stork the strawberries and mash into a smooth paste.
In a bowl sift together the flour and cinnamon, then add the oat bran.
Add the coconut oil and strawberry paste to the dry ingredients.
Using your hands, start to combine the ingredients to form a dough, adding water if the mix is too dry.
Lightly flour a clean surface.
Using a rolling pin, roll the dough to the same thickness as a pound coin.
Take your cookie cutters and begin to cut the dough.
Place the cut dough onto the lined baking tray, making sure to leave 1cm gap between each.
Bake for 10-12 minutes or until golden and no longer soft to touch.
Transfer to a wire rack and leave to cool. Please make sure the biscuits are completely cool before giving to your dog!
SHARE YOUR IMAGES OF YOUR DOG ENJOYING THESE TREATS @KIN_TAILS

ILLUSTRATION DRAWN BY THE TALENTED PAPER AND JEN