Kale and Cheese Pinwheel Dog Treat Recipe
Kale, a nutrient-rich leafy green, is not only a superfood for humans but can also provide numerous health benefits for your furry friend. It's packed with vitamins, minerals, and antioxidants that can contribute to your dog's overall well-being. In this recipe, we'll incorporate kale into delicious pinwheel biscuits that your pup will adore.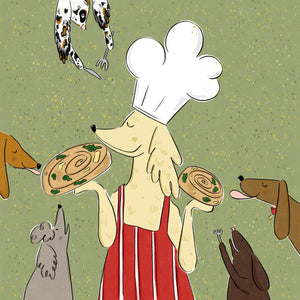 These homemade treats not only taste great but also provide your dog with the nutritional advantages of kale. Remember to give them in moderation and adjust the serving size to your dog's size and dietary needs. Enjoy treating your furry friend to these wholesome snacks!
For the Dough:
2 cups whole wheat flour
1/2 cup rolled oats
1/2 cup finely chopped fresh kale leaves (remove tough stems)
1 cup shredded cheddar cheese
1 egg
1/2 cup water
1/4 cup homemade chicken or beef broth 
2 tablespoons olive oil

For the Filling:
1/2 cup shredded cheddar cheese
1/4 cup finely chopped fresh kale leaves
Instructions:

Prepare the Dough:
Using a large mixing bowl, combine the whole wheat flour and rolled oats.

In a blender or food processor, pulse the 1/2 cup of finely chopped kale leaves until they are finely minced, or chop finely.

Whisk together the minced kale, shredded cheddar cheese, egg, water, chicken or beef broth, and olive oil until well combined in a separate bowl.

Slowly add the wet mixture to the dry ingredients and mix until a dough forms. If the dough is too sticky, you can add a little more flour. If it's too dry, add a bit more water.
Prepare the Filling:
In a small bowl, mix together the 1/2 cup shredded cheddar cheese and 1/4 cup finely chopped kale leaves to create the filling for the pinwheels.


Assemble the Pinwheels:
Roll out the dough on a lightly floured surface into a rectangle, about 1/4-inch thick.

Sprinkle the cheese and kale filling evenly over the entire surface of the dough.

Carefully roll up the dough, starting from one of the longer edges, into a log shape.

Use a sharp knife to slice the log into 1/2-inch thick pinwheels.
Bake:
Preheat your oven to 350°F (175°C).

Place the pinwheels on a baking sheet lined with parchment paper, leaving a little space between each one.

Bake in the preheated oven for about 20-25 minutes or until the biscuits turn golden brown and are firm to the touch.
Cool and Serve:
Remove the biscuits from the oven and allow them to cool completely on a wire rack.

Once cooled, these delicious kale and cheese pinwheel dog biscuits are ready for your pup to enjoy while reaping the health benefits of kale! Store any leftovers in an airtight container.
Health Benefits of Kale for Dogs:

Rich in Nutrients: Kale is a nutritional powerhouse. It contains vitamins A, C, and K, as well as calcium and potassium, which can support your dog's overall health and immune system.

Fiber for Digestion: Kale is an excellent source of dietary fiber. It can help regulate your dog's digestion and keep their gastrointestinal system healthy.

Antioxidants: Kale is loaded with antioxidants like beta-carotene and flavonoids, which can help protect your dog's cells from damage caused by free radicals.

Low in Calories: Kale is relatively low in calories, making it a great addition to homemade dog treats for dogs watching their weight.