Carrot, Kale and Ginger Crunches Dog Treat Recipe
Meet Otis, the East London cockapoo who loves nothing more than swimming. You'll find him practicing his doggy paddle anywhere there is water. From Hackney marshes to the beaches in Devon and even enjoying a swim in the pool at a French chateau while on his summer vacation.
After a quick dip he likes to snack on these carrot and kale homemade treats, full of everything he needs refuel and get back in the pool.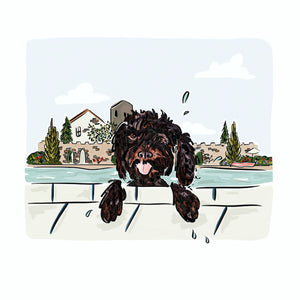 Carrot, Kale and Ginger Crunches
Ingredients
1 Cup of Flour (we use either spelt flour or rice flour depending on your dog's dietary needs)
1 Cup of Rolled Oats
1 Eggs
A large bunch of fresh kale
1 large carrot 
Thumb size piece of ginger
Method
Heat the oven to 160 degrees

Start with washing and drying the kale, then removing the stems and tearing the kale into smaller pieces. Add to a lined baking tray, making sure no pieces are overlapping as this helps the kale get crispy.

After 15 minutes in the oven, stir gently and bake a little longer. You're looking for it to be crispy and very slightly golden brown. But watch carefully to prevent burning! Allow the kale chips to rest on the baking sheets once outside the oven.
In a large bowl sieve, the flour and add the oats until well combined.

Grate the carrot and ginger into the flour and oat mixture and stir until combined

Once the kale has cooled break into small pieces and add to the mix along with eggs. The mixture needs to be firm and easy to scoop but not to wet (if the mixture is too dry then add a little water and if it is too wet add a little more flour)

Using a teaspoon, scoop the mixture onto a lined baking tray and cook in the oven for 1 hour or until firm and golden

After the hour turn up the heat to 180 degrees for 5 minutes (this helps to make them crispy but watch they don't burn)
Share your images of your dog enjoying these treats @kin_tails
Illustration drawn by the talented Paper and Jen